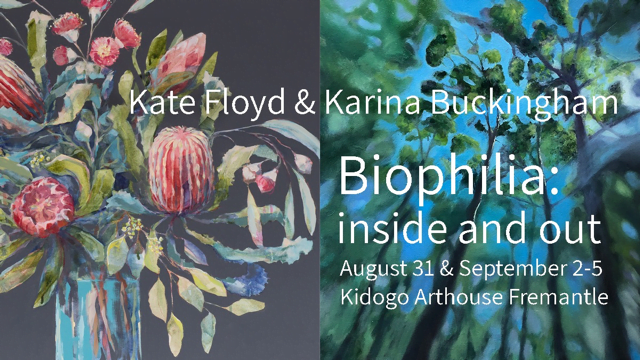 Artists Kate Floyd and Karina Buckingham, through their shared love of paint, create two distinctive interpretations of biophilia, within the context of contemporary Australian living.
Karina's motivation is outside, painting Western Australian landscapes that focus on the restorative power of our suburban green spaces and precious coastline.
Kate explores a more intimate connection with plants. Her botanical still life paintings celebrate the colour and vibrancy of Australian flora.
Kate and Karina juggle their painting practices with managing busy families, both working from their own home studios. The artists use their shared profession of painting and affinity with nature, as a way to escape the demands of modern living. These similarities in lifestyle and values have recently drawn them together as artists.
The artists will each be donating a painting to raise funds for Youth Focus, a charity that supports young people and their mental health.
Exhibition open Friday 31st August, Sunday 2nd to Wednesday 4th September 2018, 10am-5pm.