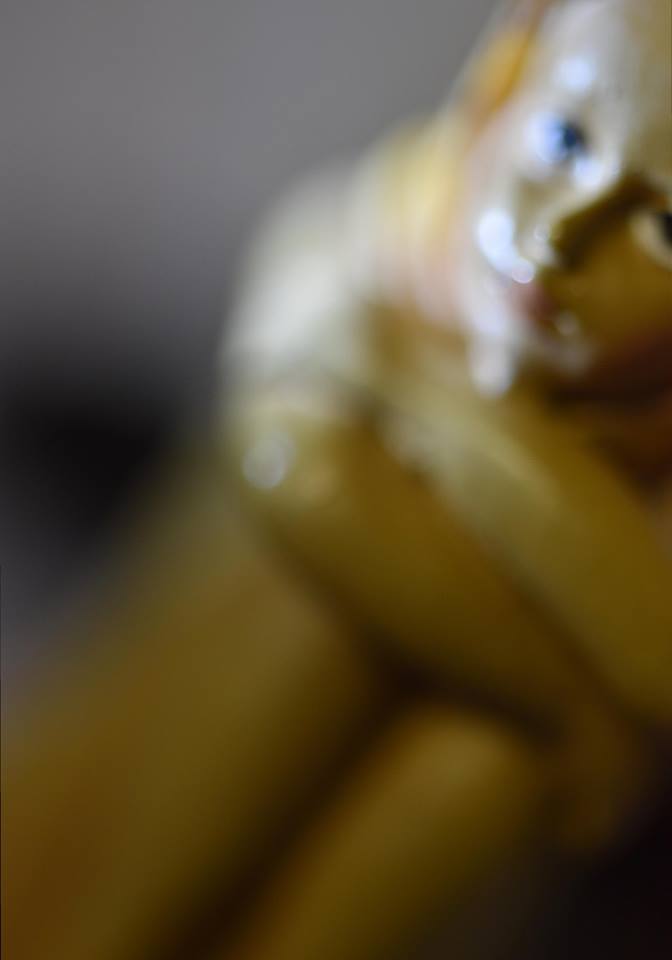 Sandie Walker is a Fremantle based creative macro-photographer, painter and poet.
Local creative macro-photographer Sandie Walker invites you to the opening of her solo photography exhibition. GIRL: AN EFFIGY NOT FOR BURNING will take place in the White Gallery, Kidogo Arthouse, Fremantle at 6.30pm Friday 8th June 2018. The exhibition will run from Thursday 7th June to Wednesday June 13th. Open hours: 11am to 4pm.
In this stunning collection of both colour and black and white photographs Ms Walker has embraced the sensitive themes of child neglect and sexual abuse. Through close focus on a 6cm figurine (including pedestal) of a young girl – a symbol of the child we all carry within us – and with creative use of only lighting and a 70 mm macro-lens Sandie Walker eloquently captures the essence of the abused child, drawing focus not only to the painful fact of child abuse, damage and neglect, but also to the vulnerability, fragility and innocence of childhood and growth.
Catching her at ages between perhaps two to sixteen, Ms Walker has uncovered an array of emotional states all children experience from soulful, fear, pensiveness and innocence to surliness, even plaintiveness.
"On a personal level, these photographs represent a part of my own childhood, a part of myself. I hope people find strength in them, and recognise the strength in themselves" Through the revealing of flaws she asks you to find beauty and to connect with what is a far too common childhood experience. to consider your own inner dialogue, to recognise your own individual story through the use of image.
Her images without doubt, provoke the viewer to feel the underlying story, and to perhaps recognise their own story written softly on the subjects face, regardless of their history or non-history of either abuse or neglect.
As with her accompanying poetry, Ms Walker offers a space for the viewer to enter these images in a way that is personal to them – to reach out to the child they carry within. "I want the viewer to find what is below the surface, of the photographs and of themselves." And her unique and atmospheric photography certainly invites, indeed demands, an emotional response.
In addition to the featured photographs, visitors to Ms Walker's exhibition are given the opportunity to listen to a small selection from her 'Stick-Girl' suite of poems, and, whilst sifting through fifty additional photographs in the form of postcards, to write comments and/or make orders.
This is an exciting exhibition where in spite of, or possibly because of the strong theme that runs through the images, visitors will come away feeling uplifted and inspired.