After a sell-out show last year, we are delighted to announce that NZ sculptor Grant Sutherland is returning to Kidogo to exhibit his new collection of extraordinary and whimsical Robots…! Make sure you visit at the beginning of the exhibition so you can purchase your favourite one!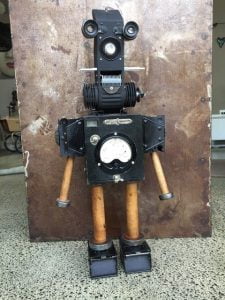 Opening: Thu 19th April
Last Day: Wed 25th April
Gallery hours: 11 – 4 (or by appointment 0401333309)
About Grant Sutherland
Grant is a cabinetmaker by trade. Crafting finely finished bespoke furniture pieces from recycled timbers is his specialty. Making metallic figures from up-cycled junk and salvaged collectibles with the same standard of finish is his biggest challenge.
While these fantastical figures you see are filled with the thrill and wonder of a young boy's imagination, there is something deeper at work. In our disposable society we often throw away the best of the past. Nothing is made to stay and today's planned obsolescence is simply designed to make the future pay. When it comes to the work of an assemblage artist, integrity is key. No material should be considered sacred yet virtually any object or part can be deemed precious.
Hunting and collecting is a hallmark trait of the assemblagist. Each detail in any one of Grants figurines may take years to source. What sets each of his finished pieces apart is that the feature components are all faithful to an era and/or particular design style. He does not use glue or weld, preferring rivets and secret attachments. The fittings are specifically chosen to match the age of all the featured parts. His eye for detail and high quality finishing are the trademarks of a true craftsman.
His creations will go on living for many futures to come.