Kerry Anne Jordinson's exhibition "In the Company of Friends" is at Kidogo Arthouse from Fri 6th April – Wed 11th April 2018 (11am – 4pm) or by appointment.
Singapore born, UK raised and now living in Australia, Kerry Anne Jordinson is an artist working across a broad range of media.
She has developed her distinctive style over 35 years of painting and drawing – her artwork is fresh, uncluttered, predominately figurative and often laced with humour.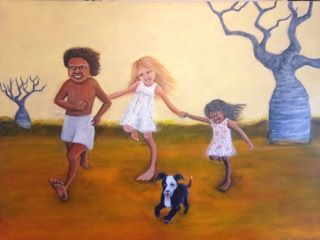 Kerry Anne is constantly inspired by her environment, and paints naturally what she loves.
The acrylic paintings and pastel art pieces presented in this exhibition 'In The Company of Friends' are likewise the end result of her observations. They are bold and bright and each painting tells its own story of a moment in time.
Kerry Anne also enjoys writing and illustrating children's picture books – her two latest releases published in 2017/2018 by Backroom Press are "Storm Pearl' and MAGABALA Books 'I Remember' written by Joanne Crawford.
As well a painting and drawing every day, Kerry Anne shares her love of art teaching adults and children. She is based in Broome and spends time in Fremantle as well as travel overseas.