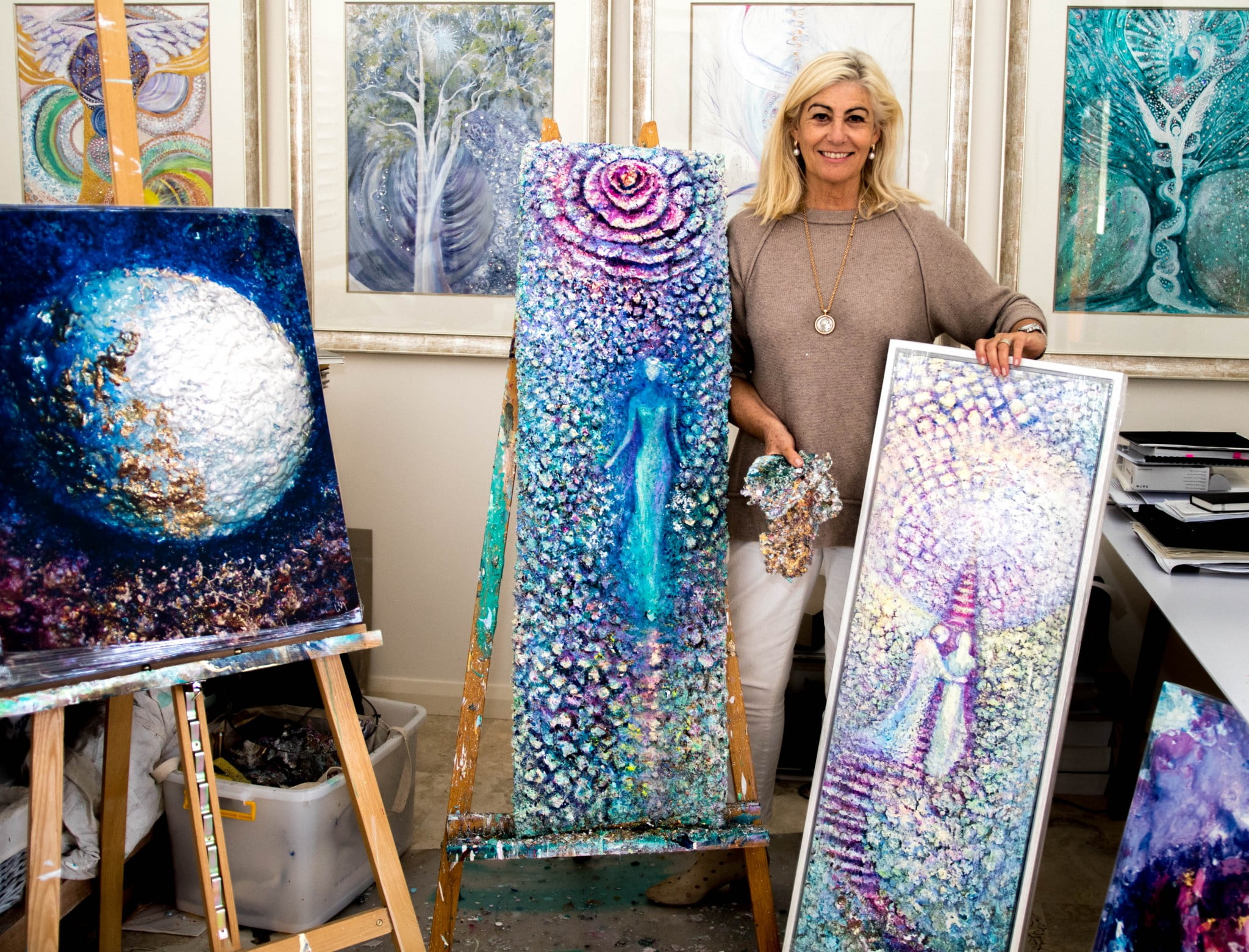 "Hope and Transformation" an exhibition by Libby Baker
'Seven years on one canvas' – a pictorial story at Kidogo Arthouse on Bathers Beach, Fremantle opens on June 15 and runs until June 28, 2017. For further information go to
www.libbyenergyart.com
A unique art work at the centre of an exhibition by Perth artist and author Libby Baker opens at Kidogo Arthouse, Fremantle in mid June. (June 15 to 28)
'Seven years on one canvas' follows the evolution of Baker's largest work to date – Hope and Transformation. Baker says many images appeared and disappeared under layers of paint over the seven years. She says the evolution of the artwork was unusual because it involved no conscious thought.
"It comes through me rather than from me."
The original canvas measuring 1.4 metres high by 400 mm wide now weighs 26.5 kgs and resembles a stone sculpture.
The exhibition features the original art work along with selected framed canvas and fine art prints, taken from snapshots in time that Baker took of images emerging on the canvas. An audiovisual display of all 94 images showing the development of the story beneath the original artwork will also run continuously during the exhibition.
Baker started painting on the canvas in 2010 after completing a series of fine art' Chakra Tree' paintings that feature in a self- published book – Revealing Hidden Emotions (2014).
She says the process for the latest art work "Hope and Transformation" was similar to what she experienced when painting the Chakra trees – with images revealing stories in layers of paint.
" Different coloured images of beings, planets and symbols came and went."
" I believed the work was finished, would hang it and start painting on the canvas again."
"There were times when I was overwhelmed with joy at images that miraculously appeared and suffered enormous loss and regret when I was drawn back to keep painting and lost the image."
"At one stage I hacked into the canvas of stone with a hammer and chisel revealing layers of gold leaf and mixed media in remarkable patterns and colours."
The resulting sculptures will also be on display at the exhibition.
She also gave up trying to convince herself the work would ever be complete, and put it back on an easel where it remains today.
"I felt that I was being given a story to tell by painting from the heart, which also involved overcoming feelings of self doubt, fear and stepping out of conditioned norms."
She says on a wider stage, the images reflect the emergence of feminine energy and the important role it has in restoring planetary balance and human harmony.
Baker says while the art work continues to transform, the reaction from artists, healers and friends who have witnessed its evolution persuaded her to share the journey with the wider public.
"When viewed I would like to leave the story behind the images open to the individual's interpretation."
'Seven years on one canvas' – a pictorial story at Kidogo Arthouse on Bathers Beach, Fremantle opens on June 15 and runs until June 28, 2017. For further information go to
www.libbyenergyart.com
ENDS
BACKGROUNDER – LIBBY BAKER
Painting provides Perth artist Libby Baker a creative link to energetic dimensions. Baker, a trained nurse and talented artist, was born in New Zealand and moved to Australia in 1979 with her first husband and two young sons. She completed a post graduate degree in Occupational Health & Safety at Curtin University in Western Australia with further post graduate psychology studies. She returned to painting after a 20 year career in safety management, auditing, training and consulting. During that time she re-married, had a third child and survived a health scare that forced her to examine what she wanted from life. She has published two books based on her art work – Lillibet's Elemental Wisdom – re-published by Balboa Press in 2011, followed in 2014 by the self-help healing book Revealing Hidden Emotions. Baker paints from a studio at her home in Perth, Western Australia.
For further information contact:
Libby Baker
Mobile: 0419044507
e-mail: [email protected]