26 October to 1 November 2017 – Kidogo Arthouse Bathers Beach Fremantle
Wade and Robyn Hughes have been photographing sperm and humpback whales for more than 10 years. The first exhibition of the Port Coogee couple's maginficent black and white photographs is on at Kidogo Arthouse at Bathers Beach Fremantle from 26 October to 1 November 2017.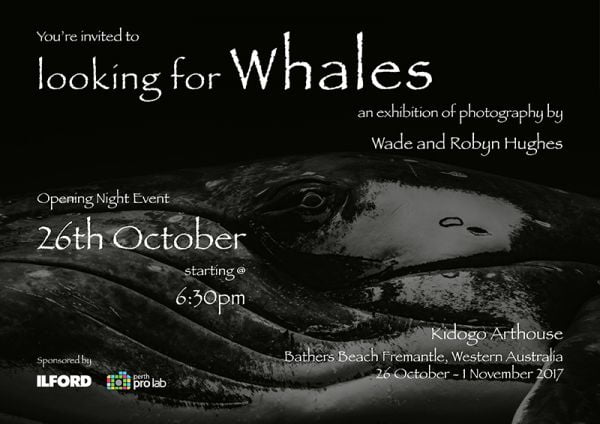 Wade has just been announced as finalist in the prestigous National History Museum of London's Wildlife Photographer of the year awards. His photograph of a humback whale, that features on his exhibition poster, has been selected as one of the best 100 photographs from the 50,000 entries from 95 countries entered into this year's competition. (It will tour as an exhibition internationally in 2018).
Wade said, "There's an aesthetic in the form and lives of whales that goes beyond their sheer size and presence. Our exhibition at Kidogo attempts to bring that aesthetic to the surface, so that it might be appreciated by a wider audience."
"Every encounter, every opportunity to observe and record, is a privilege. And, hopefully, the observations and photographs might eventually contribute something towards greater understanding and appreciation for the roles that whales play in the overall web of life on Earth."
Wade and Robyn take their photographs using a mask, snorkel, and fins only as open-circuit scuba equipment is considered an encumbrance for them, and its streams of noisy bubbles would likely disturb many of the whales they meet.
Wade said that working with wild whales is what makes this work most challenging, and inspiring.
"Wild whales are large, extremely powerful, able to react and move quickly, and demand the utmost respect. They have complex relationships of their own, they live in a constantly threatening environment, and have no reason to view human encounters as anything more than just another data point in the vast array of information that they have to collect and analyse every day and night to survive. So any encounter that results in close engagement, is a privilege for us. "
Sperm whales and fin whales featured in the exhibition were photographed during nine expeditions to the Azores-Portuguese islands in mid Atlantic Ocean – under permits and guidelines issued by the Azorean Secretaria Regional do Mar, Ciência e Tecnologia. Humpback whales were photographed in the Vava'u archipelago, Tonga, in the Pacific Ocean under Tongan authorities' guidelines.
Internationally, Wade and Robyn's whale photography has been described as "among the finest" by leading whale expert Dr Hal Whitehead, and "some of the best" by acclaimed American author and artist Richard Ellis. It has appeared in numerous magazines, and is becoming popular as home décor.
Dates: 26 October – 1 November 2017 (Closed Sat 28 October)
Kidogo Arthouse: Rear 47, Mews Road, Bathers Beach Fremantle, Western Australia
Opening Hours: 11 am to 4pm daily